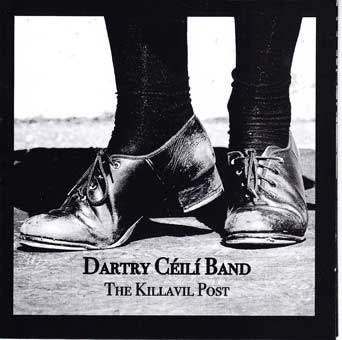 C028-Dar
The Killavil Post
Dartry Céilí Band
Price:
€16.60 including postage in Ireland.

€18.25 including postage Worldwide
-
Paypal Ireland:
Buy now for delivery in Ireland
Paypal outside Ireland:
Buy now for delivery outside Ireland
 
Availability:
This item is in stock and is normally dispatched within 24 hours of order.
 NOTE: if you do not wish to use Paypal you may purchase this CD set by sending a EURO cheque to OaC, Spanish Point Rd., Miltown Malbay, Co. Clare, Ireland. Your CD set will be dispatched as soon as the funds have been cleared through our Bank account.
 
List of Tracks:
1. Down the Broom / Cregg's Pipes (Reels) .
2. Joe Derrane's / Leslie's March (Jigs)
3.The Rebel's March
4.Far away in Australia(Song)
5. .Maids of Castlebar/Roscommon/Martin'
 6. Ray's Classic/Dark Girl Dressed in Blue/
7. Kitty's Rambles / Gillian's Apples (Jigs)
8. Pride of Erin(March)
9.  Reel of Bogey / SligoDuke (Reels) .
10. McGivney's Fancy / Wonder Hornpipe
11. The Piper (Song) ,
12. Pearl O'Shaughnessy's (Bamdance)
13. . Darby the Driver / Strike the Gay Harp
14.  Tarbolton/Longford Collector/Sailor's Bonnet
Extract from Sleeve Notes:
MUSICIANS:       
Fiddles:  Philip Duffy, Declan Folan, John Kilkenny, Mossie Martin
Flutes:    Noelle Carroll, Cian Kearins, June McCormack
Accordion:            Sean Carroll           .
Concertina:            Michael Rooney
Drums:   Damien McGuinness
Piano:     Kevin Brehony
Vocals:   Cian Kearins & Noelle Carroll
The Dartry Ceili Band, formed in 2007 and hail from Co. Sligo.They have become in a very short time, a top ranging band, having won the All-Ireland Senior Ceili Band competition in 2009. (Dedication motivation and  individually strong players has seen to this, coupled with that North Connacht, joyous fiery style, (I'm biased)),The counties of'Monaghan, Mayo and Roscommon are also represented in the lineup. Listening to them play, it's obvious they  are very disciplined, whilst still'retaining the character of the music. A band well worth the attention of anyone interested in traditional music and dance.Ceili  bands have been an integral part of the traditional music scene over the years and long may it continue
Matt Molloy