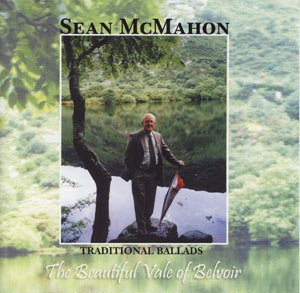 C014-Belvoir

Sean McMahon.

The Beautiful Vale of Belvoir.
Traditional Ballads

Price
€13.60 incl postage in Ireland (North & South)
€15.25 incl postage worldwide
Paypal Ireland:
BUY now for delivery in IRELAND
Paypal outside Ireland:
BUY now for delivery WORLDWIDE
Availability:
This item is in stock and is normally dispatched within 24 hours of order.
 NOTE: if you do not wish to use Paypal you may purchase this CD  by sending a EURO cheque to OaC, Spanish Point Rd., Miltown Malbay, Co. Clare, Ireland. Your CD will be dispatched as soon as the funds have been cleared through our Bank account.
 
List of Tracks:
1. The Beautiful Vale of Belvoir (4.44) (Comp ,Martin Kennedy)
2. The Lovely Sweet Banks of the Moy (4.00)
3. Graine Uaile (4.57)
4. The Boys of Bar na Sraide (4.46) (Comp.Sigerson Clifford)
5. John Mitchel (4.07)
6. Hills of Sweet Mayo (3.48)
7. Sarsfield (6.07)
8. Lovely Mary (3.19)
9. When the Fields are White with Daisies (3.48)
1 0. Come Home to Abbeyfeale (5.5) (Comp. Sean MceCarthv)
1 I. The Lovely Banks of Blane (4.08)
12.. Lough Ernes Shore (4,48)
13. Lovely Derry (3.59)
14. Mary on the Banks of the Lee (5.18)
15. Skibbereen (4.47)
16. The Chapel Gate in Cooraclare (4.47)

 
Extract from Sleeve Notes:
About Sean McMahon
Sean McMahon was born in Clonbrick, Kilkishen in East Clare and has been involved in traditional music and singing all his life.
During the eleven years he spent in England he sang in many Irish pubs and clubs. When he settled back in his native country he continued this interest and helped form a branch of C.C.E. in Kilmurry. Sean was also involved in the building and running of Cois na hAbhna in Ennis and of the founding of The Ennis Singers Club.

Belvoir is a beautiful valley in East Clare on the Sixmilebridge to Broadford Road and about two miles from Kilkishen. It was immortalised by Martin Kennedy, a poet and blacksmith from Violet Hill in Broadford, who composed the song "The Beautiful Vale of Belvoir" at the turn of the last century
Other Information:
Format: single CD with booklet
Label: