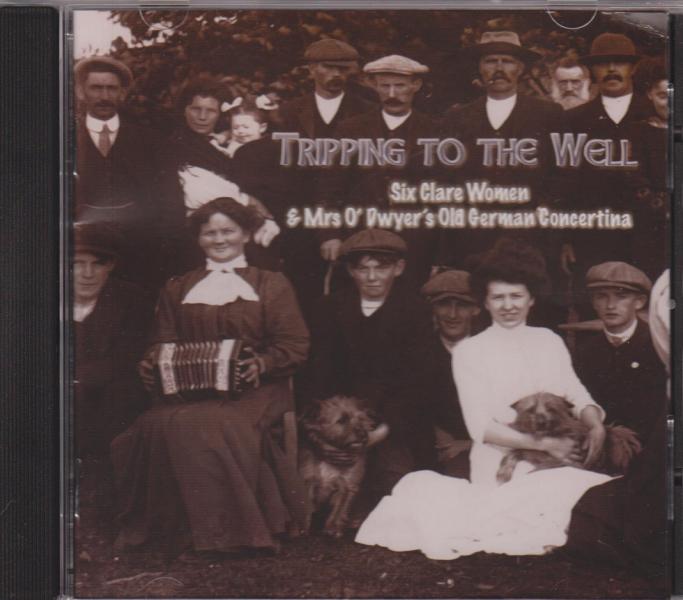 CD -047
Six Clare Women & Mrs O'Dwyer's Old German Concetina. Featuring Angela Crotty, Ann Kirrane, Mary McNamara, Jacqueline McCarthy, Josephine Marsh, and Dympna O'Sullivan.
€16.60 including postage to Ireland
€18 including postage to rest of the world
Paypal Ireland:
Buy now for delivery in Ireland
Paypal outside Ireland:
Buy now for delivery to rest of the world
Availability:
This item is in stock and is normally dispatched within 24 hours of order.
 NOTE: if you do not wish to use Paypal you may purchase this CD set by sending a EURO cheque to OaC, Spanish Point Rd., Miltown Malbay, Co. Clare, Ireland. Your CD set will be dispatched as soon as the funds have been cleared through our Bank account.
 
Extract from Sleeve Notes:
The plaintive tone of the old double-reeded German concertina, a mainstay of 19th and early 20th century country-house dances, has all but disappeared from the Irish musical landscape of today. In this unique project, a German concertina that once belonged to Mrs. Ella Mae O'Dwyer of Ardgroom, Co. Cork, is used to recreate some of the ambience, sound and style of concertina playing in Clare from that long-ago era, through the individual talents and musical heritage of six outstanding women players from the various musical regions of Clare.