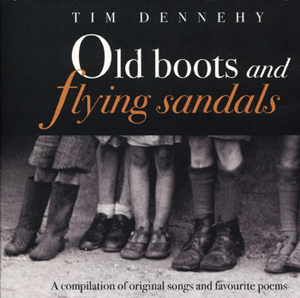 C001F-TD
Tim Dennehy
Old Boots and Flying Sandals.
 
Price
€19.60 incl postage within Ireland North and South
€21.25 incl postage worldwide
Paypal Ireland:
BUY now for delivery in IRELAND
Paypal outside Ireland:
BUY now for delivery WORLDWIDE
Availability:
This item is in stock and is normally dispatched within 24 hours of order.
 NOTE: if you do not wish to use Paypal you may purchase this CD by sending a EURO cheque to OaC, Spanish Point Rd., Miltown Malbay, Co. Clare, Ireland. Your CD will be dispatched as soon as the funds have been cleared through our Bank account.
 
List of Tracks:
1. Leaba Shioda 3.57
2. Old Boots and Flying Sandals 4.21
3. A Winter's Tear 4.42
4 . Farewell to Pripyat 6.48
5 . Sceilig Mhichil 4.22
6. To Jane 3.04
7. An Nollaig Theas 3.12
8. Be Still as you are Beautiful 3.51
9. I Know what I'm Missing 3.57
10. Memorial 6.39
II. The Parted Years 4.09
12. The Deep End 6.24
13. Keep in Touch 6.31
14. The Ballad of James Meere 5.14
15. Cry of the Mountain 6.01
16. Scarúint 2.11
 
Extract from Sleeve Notes:
About Tim Dennehy
Tim Dennehy was born in Ballinskelligs and later the family moved to nearby Cahersiveen on the Iveragh peninsula. Both his parents sang any were inheritors of a huge store of songs and stories in the Irish language. Tim's mother, Nora Kelly came from Cill Rialaig and her father Pádraig (1868-1948) is one of the oldest recorded voices of the peninsula.
This, his sixth album, presents a compilation of his own original compositions and poems set to music. Some of these have appeared on previous albums, some are newly arranged while some pieces appear here for the first time. All have been woven from deeply felt emotions, penned from an inner impulse and carefully honed at numerous gatherings of singers, musicians and poets over the last thirty years. These songs have been shared with audiences all over Ireland and throughout Europe and the United States where Tim regularly performs at festivals and teaches at song workshops.
The themes are many and varied, from the deeply personal, through the environmental, to the love and loss of the human experience. The songs join the past with the present, not in an over sentimental fashion, but in a spiritual linking of time, imagination and love underlining the power of music, song and poetry. Words and music take flight here whether they are the words of poets Shelley of the seventeenth century or Nuala Ní Dhomhnaill of the twenty-first or indeed Tim's own words describing a perfect summer soundscape or a chilling charred Chernobyl.
Leave the old boots aside for a while then and allow the intensity and passion, the gentleness and love take flight through the lyrics and music of these songs composed and sung by "one of the finest traditional singer- songwriters of the present time"

 
Other Information:
Format: Single CD with booklet.
Label: Sceilig Records SRCD005