C0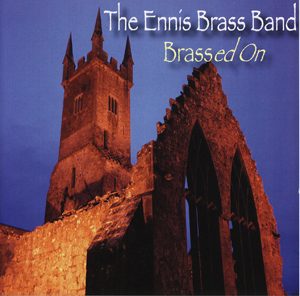 15-EBB

Ennis Brass Band
Brassed On


Price:
€14.60 incl postage in Ireland (North & South)
€16.25 incl postage worldwide.
Paypal Ireland:
BUY now for delivery in IRELAND
Paypal outside Ireland:
BUY now for delivery WORLDWIDE
Availability:
This item is in stock and is normally dispatched within 24 hours of order.
 NOTE: if you do not wish to use Paypal you may purchase this CD  by sending a EURO cheque to OaC, Spanish Point Rd., Miltown Malbay, Co. Clare, Ireland. Your CD  will be dispatched as soon as the funds have been cleared through our Bank account.
 
List of Tracks:
1. Punchinello
2. The Power of Love
3. Theme from "Gladiator"
4. Singin' in the Rain
5. Carillon
6. Buglers Holiday
7. Memory from "Cats"
8. Breathless
9. Frolic for Trombones
10. Shepherds Song
11. Adventures in Brass
12. Theme from "The Mission"
13. Bandstand B
15. New York, New York

 
Extract from Sleeve Notes:
About Ennis Brass Band
As a Garrison town, Ennis has a long tradition of Brass Bands — from the classical marching band, to the "Big Bands" of the 1950's, the medieval streets of Ennis have for generations resonated with the sound of brass.
After the Second World War, or "Emergency", participation in the band began to wane. It was reformed in the 1970's by a group of dedicated members and community leaders, and the band began its current life as a civic-minded voluntary group, dedicated to teaching musical skills to the children of the town, and fulfilling the role of a municipal Brass Band.
Performing locally and nationally at various concerts & festivals, the band has also represented Town and County at competitions all over the country. The Ennis Brass Band hat triumphed at Junior, Intermediate and Senior levels at both National and Regional Finals, over the years, and has recently won the Limerick International Festival two years running.
The band has also travelled and performed extensively on the European Mainland and the UK.

Musical Director/Conductor:Kieran 0' Connor.
Principal Cornets: Clodagh Power. Ailin McAllister.
Solo Cornets: Aine McAllister. Alice 0' Hanlon. Sarah Power.
Repiano Cornet: CoIm Gowran.
2nd Cornets: Darren 0' Connor.Eamon Glenny.Sean Campbell.
3rd Cornets: Sean Whelan.Oisin Tiernan.
Flugel Horn: Mary Glenny.
Solo Horn: Darragh McAllister.
I st Horn: Meadhbh 0' Sullivan.
2nd Horn: Michelle Ryan.
I st Baritone: Eddie Glenny.
2nd Baritone: Michelle Hennessy.
Solo Trombone: Ian McDonald.
I st Trombone: Grainne Coffey.
2nd Trombones: Brendan Campbell.
Solo Euphonium: Rory McAllister.
2nd Euphoniums: Colum O'Toole. Deirdre Coffey.
Eb Basses: Bernard McAllister. Niall Foudy.
Percussion: Kieran McAllister. Gary McAllister.
Band President: Michael Guerin.
Chairman: Tomás Ryan