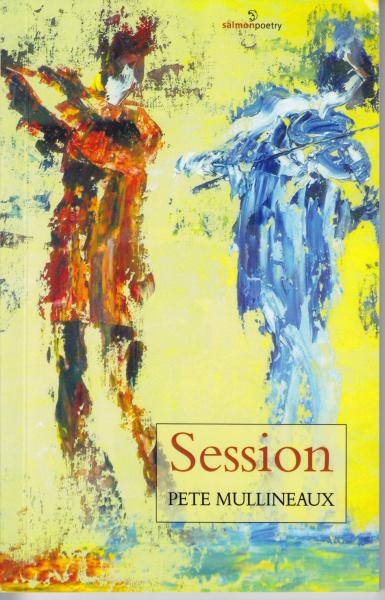 B011-Session
Session
by
Pete Mullineaux
A collection of 56 poems
Price:
€13.50 incl Delivery in Ireland (North & South)
€ 15.00 incl delivery worldewide
Paypal Ireland:
BUY now for delivery in IRELAND:
Paypal outside Ireland:
Buy now for delivery WORLDWIDE:
Availability:
This item is in stock and is normally dispatched within 24 hours of order.
 NOTE: if you do not wish to use Paypal you may purchase this CD set by sending a EURO cheque to OaC, Spanish Point Rd., Miltown Malbay, Co. Clare, Ireland. Your CD set will be dispatched as soon as the funds have been cleared through our Bank account.
 
Contents:
Session (the word used to describe informal gatherings featuring traditional Irish music) is Pete Mullineaux's second publication with Salmon. At age 13, his poem, 'Harvest Festival' appeared in Macmillan's anthology Poetry & Song and this latest col­lection continues a lifetime fascination with the twin worlds of poetry and music -(Pete plays guitar, mandolin and fiddle.) Here are lyric, narrative and song elements, exploring and celebrating the presence of music in human interaction and in nature — there is a particular empathy with animals -from starfish, spiders, dogs, and cows through to a whole range of birds. Paying tribute to the 'music' in poets such as Heaney andYeats along the way, this is an innovative, some­times humorous, but ultimately a serious and thought-provoking creative study.
THE POEMS:
Raftery's Buttons
The Liffey Banks
A Piper Prepares
A Slow Start to the Set
The Old Triangle
The Five Mile Chase
Trad Universe
Naming the Tunes: Swinging
Untitled
Swan Heron Ducks
Fungi
Spider
Music of the Spheres
Listening
Humours of Lissadell
Fiddle Fox
Making Rain
Faith

II
Addicted # 2
Blind Date
Tabhair Dom Do Lamh
Loosening the Grip
Cave Music I
Cave Music II
Lads of Leitrim
Wilde Girl
A Milltown Lass
Dusty's
Dusty Windowsills
Powell's Doorway
Boats Marinating
Subliminal
Shags
Solace
Still Life
Geese in the Bog
The Other Side of the Coin
A Singing Gate
Tidings
Dry River Blues
Concertina
Salthill Air Show
A Musical Bridge
A Precarious Pint
The Old Fiddle on the Wall
Elusive Swans
Requiem
Mountain View
Scarecrow
The Fairies
Trip to Pollardstown
Stray Dog Cafe
Still Life II
Piper in the Cave
The Glory Reel
Coda
Other Information:
Pete Mullineaux originates from Bristol, UK. At age 13 his poem 'Harvest Festival' was published in two anthologies, Poetry & Song (Macmillan) and Man & His Senses (Harrap) as well as being recorded by Argo records alongside music and song from Ewan MacColl & Peggy Seeger. Living in London for several years, he worked in a left-wing printing press and was part of the alternative music scene with the punk rock band The Resisters, then as singer-songwriter, Pete Zero. Adapting to the emerging wave of performance poetry, he appeared in the Apples & Snakes anthology Raw & Biting Cabaret Poetry, (Pluto Press 1984) and won the City of London Poetry/song contest in 1986. In 1991 he moved to Galway with his partner and daughter, where he works as a creative writing facilitator and drama devisor with local and national community/arts/campaigning groups. He's particularly involved in development education and is a mentor on Poetry Ireland's Writers in Schools Scheme. His poetry has been pub­lished widely in Ireland, UK, USA and France - with two previ­ous collections: Zen Traffic Lights (Lapwing 2005) and A Father's Day (Salmon 2008.) Readings range from Cuirt International Festival of Literature to Electric Picnic, New York to Glastonbury. He also writes for the theatre and has had a number of plays pro­duced by RTE radio.
Publisher:
<p> Published in 2011 by Salmon Poetry Cliffs of Moher, County Clare, Ireland www.salmonpoetry.com</p>