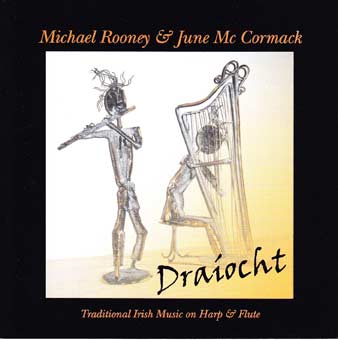 C025A-Roo.
Draoícht
Michael Rooney
& June Mc Cormack
Traditional Irish Music on Harp and Flute
Price:
€19.60 incl postage in Ireland North & South
€21.50 incl postage Worldwide
Paypal Ireland:
Buy now for delivery in IRELAND
Paypal outside Ireland:
Buy now for delivery WORLDWIDE
Availability:
This item is in stock and is normally dispatched within 24 hours of order.
 NOTE: if you do not wish to use Paypal you may purchase this CD set by sending a EURO cheque to OaC, Spanish Point Rd., Miltown Malbay, Co. Clare, Ireland. Your CD set will be dispatched as soon as the funds have been cleared through our Bank account.
 
List of Tracks:
1. Joe Deranne's Jig / Port na Cordaile  (Jigs) 3.25
2. The Fly by Night / Cornphiopa Corafinne (Hornpipes] / Cape Breton Fiddlers Welcome to Shetland(Reel) 4:31
3. Na Maithe Móra (Minuet) 3:31
4. The Concert Reel / Salute to Baltimore (Reels) 3:42
5. Aghaidh Jhanuis (Slow Air)5:36
6. Gort na Mona / Tir Rafartaigh (slip Jigs) 3.04
7. I Ne'er Shall Wean Her / The Shores of Lough Gowna (Jigs)/ Maguire's Clan March 5:30
8. Sonny's Return / Fr. Grady's Visit to Bocca (Reels) 3:48
9. Planxty Aisling O Neill / Lurgadán (Jig)/ Homage to Rooney (Reel)
10. The Killavil Jig / Tommy Mulhaire's Jig / Willie Coleman's Jig 3:20
11. An Bhuatais (Slow Air)3:37
12. The Graf Spey (Reel)4:04
Extract from Sleeve Notes:
June and I Started  learning  our music in the mid-eighties. Our dedicated parents Pauline, Mackie, Teresa and Seamus gave us every  opportunity to learn and hear good music froma young age. They travelled the length and breadth of the country to brinq us to music classes, Workshops and summer schools. We are extremely grateful for the effort, energy and time invested by them in our musical development over the years.
I was taught by Janet Harbison, Jimmy andf Ciarán Burns and Pat  but undoubtedly  the person who had the  most influence on my music was my father Micheál  he gave me a great insight  into traditional music, as well as givinq me a 'meas' for the sonqs and airs of the tradition.
June began learning the  tin-whistle and flute at  home from her father Seamus and later was taught by  Alfie-Joe Dineen, CarmelGunning and Paddy Ryan. From an early age June has immersed in the style of the North Connacht  region. She learned  much of her repertoire from the playing  and recordings  of the likes of Peter Horan, Fred Finn, Michael Coleman and  Josie McDermott, to mention just a few.
In July 1990, we both participated in the twenty first year celebration of 'Glór Réim na hÓige', organised by foróige Coincidently, we were asked to do a duet together for the concert which was held in UCD. That was  our first time to meet and play together.
In 2000, we headed off travelling and playing music for a year.. We played in tke U.SA, Australiaand New Zealandand really enjoyed it. We started talking about recording  a CD together at that stage. Four years later, we finally decided that we were ready. Many of the tunes on this CD are favourites of ours. Michael has done a lot of comp[osing oiver the last few years and we'veincluded four of his compositions on this recording.
We hope that you enjoy our music
Michael and June
Draíocht Rooney & Mc Cormack