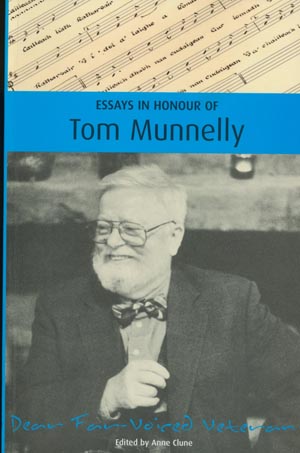 B002-DFV
Dear Far-voiced Veteran.
A Collection of essays in honour of Tom Munnelly.
Editor: Anne Clune
Price:
€25.00 incl delivery within Ireland North & South
€29.75 incl. delivery worldwide.
Paypal Ireland:
BUY now for delivery in IRELAND
Paypal outside Ireland:
BUY now for delivery WORLDWIDE
Availability:
This item is in stock and is normally dispatched within 24 hours of order.
 NOTE: if you do not wish to use Paypal you may purchase this book by sending a EURO cheque to OaC, Spanish Point Rd., Miltown Malbay, Co. Clare, Ireland. Your book will be dispatched as soon as the funds have been cleared through our Bank account.
 
Contents:
Contents

Introduction, Nicholas Carolan

Fishing For Eels for Tom Munnelly, Fisher of Songs, Ciarán Carson

From Text to Work: Reconceptualizing Folk Songs as Texts, David Atkinson                  1

'History, Heartbreak and Hope': Recording the Story Behind

the Song, Margaret Bennett                                                                                          15

'Bean an Fhir Rua' as Performed by a Master of Conamara

Traditional Style, Seán Mac Donncha of Carna, Seóirse Bodley                                      31

Songs in English from the Conamara Gaeltacht, Angela Bourke                                      43

Twenty Years Too Late: Collecting in the Kinvara Area, Caoilte Breatnach                   59

The Talking Machine Comes to Ireland, Nicholas Carolan                                             73

A Simple Countryman? Walter Pardon of Norfolk, Jim Carroll and Pat Mackenzie      85

Meeting Child on the Road, Len Graham                                                                      99

From the Kingdom to the Banner: Tadhg Ó Murchú as a

Folklore Collector in Southwest County Clare in 1942, Patricia Lysaght                     113

What Did We Sing Before There Were Folk Songs, John Moulden                             135

Collecting Sets in the Early Days of the Revival, Terry Moylan                                     159

A Drogheda List of Melodies: Implications for the Song

Tradition of Oriel, Pádraigín Ni Uallacháin                                                                 169

Gluaiseacht na gCarabhat i Sliabh gCua: An Stair agus

an Béaloideas, Éamonn 0 Bróithe                                                                                191

Connoisseurs of Song, Séamas Ó Catháin                                                                    209

'Nuair a Bhí an Slánaitheoir ag Siúl ar an Talamh': Scéalta

Mínithe Cráifeacha sa Traidisiún Béil, Pádraig Ó Héalaí                                                217

Singing the Famine: Joe Heaney, 'Johnny Seoighe' and

the Poetics of Performance, Lillis 0 Laoire and Sean Williams.                                     229

'Traditional Ears': Perception and Analysis in

Irish Traditional Music, Micheál Ó Súilleabháin                                                            249

Brown Ale and Black Tea, Stan Scott                                                                           277

Textual Criticism and Ballad Studies, Hugh Shields                                                       287

'Borders and Boundaries: Discord in Irish Traditional Song', Therese Smith                   295

Luibheanna Íce Arainn – The Healing Herbs of Aran, Seán Spellissy                              317

A Problem for the Public – Seán Ó Riada and Irish Traditional Music, Barry Taylor       331

Thar Farraige Anonn - Séamus Mac Aonghusa in

Albain 1946-1947, Rionach uí Ógáin                                                                           361

Encomium on a Reluctant Academic, Fintan Vallely                                                     373

Bibliography                                                                                                                 387

Notes on Contributors                                                                                                 399
 
Publisher:
<p> Old Kilfarboy Society</p>