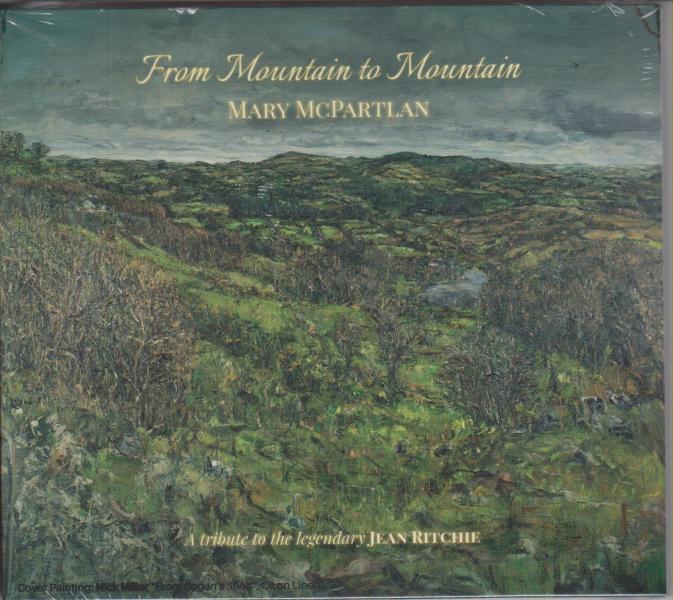 CD 075
From Mountain to Mountain
Mary McPartlan
Price:
€16.60 including postage to Ireland
€18 including postage Worldwide
Paypal Ireland:
Buy now for Delivery in Ireland                      
Paypal outside Ireland:
Buy now for delivery Worldwide              
Availability:
This item is in stock and is normally dispatched within 24 hours of order.
 NOTE: if you do not wish to use Paypal you may purchase this CD set by sending a EURO cheque to OaC, Spanish Point Rd., Miltown Malbay, Co. Clare, Ireland. Your CD set will be dispatched as soon as the funds have been cleared through our Bank account.
 
List of Tracks:
1. Hangman
2. Pretty Saro
3. One I Love
4. How Can I Live at the Top of the Mountain
5. Black Waters Packie's Waltz
6. The Cuckoo
7. The L& N don't Stop here anymore
8. The Month of january
9. Loving Hannah
10. Shady Grove
11. Lord Randall
12. Tribute to Jean
Extract from Sleeve Notes:
FROM MOUNTAIN TO MOUNTAIN takes the listener on a journey from the hilltops of Western Ireland to the foothills of Eastern Kentucky. The talented Mary McPartlan offers a tremendous tribute to her fellow Fullbrighter, musician and song-collector Jean Ritchie that speaks to the power of the mountains and the people who call them home. 
From Mountain to Mountain