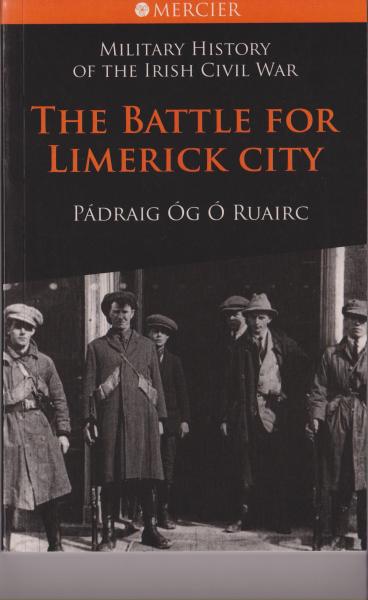 B024
The Battle for Limerick City
€15.99 including postage to Ireland
€16.99 including postage to rest of world
Paypal Ireland:
Buy now for delivery in Ireland
Paypal outside Ireland:
Buy now for delivery outside Ireland
Availability:
This item is in stock and is normally dispatched within 24 hours of order.
 NOTE: if you do not wish to use Paypal you may purchase this book by sending a EURO cheque to OaC, Spanish Point Rd., Miltown Malbay, Co. Clare, Ireland. Your book will be dispatched as soon as the funds have been cleared through our Bank account.
 
Contents:
Chapter 1       The British Withdrawal
Chapter 2       Early Hostilities in Limerick
Chapter 3       The Outbreak of the Civil War
Chapter 4       The War comes to Limerick
Chapter 5       The Battle for Limerick
Chapter 6       The End of the Conflict in Limerick city
Appendix 1     Casualty Lists for Limerick, 11 - 21 July 1922
Appendix 2     Biographies
                        Endnotes
                        Index
Other Information:
In this book on the battle for Limerick city, Pádraig Óg Ó Ruairc offers a new perspective on the struggle that reduced the viability of the republican's 'Munster Republic' and set the stage for the battle of Kilmallock, which turned the tide of the Civil War in favour of the Free State.