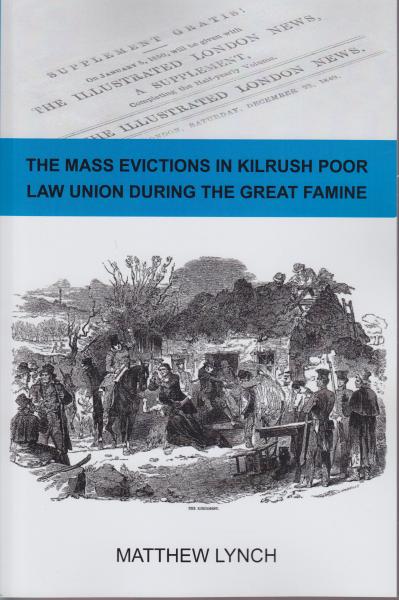 The mass evictions in the Kilrush Poor Law Union during the Great Famine
By
Matthew Lynch
Soft cover
Price:
€19.00 incl postage within Ireland
€20.00 Incl postage worldwide
Paypal Ireland:
Buy now for delivery in Ireland
Paypal outside Ireland:
Buy now for delivery Worldwide
Availability:
This item is in stock and is normally dispatched within 24 hours of order.
 NOTE: if you do not wish to use Paypal you may purchase this Book by sending a EURO cheque to OaC, Spanish Point Rd., Miltown Malbay, Co. Clare, Ireland. Your Book set will be dispatched as soon as the funds have been cleared through our Bank account.
 
Contents:
Acknowledgements                                                                         v
Abbreviations                                                                                  vi
Preface                                                                                            vii
Introduction                                                                                     1
Chapter 1      Land and community in Kilrush Union
before the mass evictions                                                          12
Establishment and extent of the Union
Population profile
Social and economic conditions
Land and community
Chapter 2      The course and extent of mass evictions                    34


 
Legal powers and administrative procedures
Commencement of the mass evictions
The course of mass evictions
Analysis of eviction records
Chapter 3      The Kilrush clearances in context                               67 
 -Other mass evictions in Clare during the Famine              
-  Mass evictions in other areas of the country at the time
- Mass evictions up to and including the Land War (1879-1882)   and the Plan of Campaign (1886-1891)
 - The Highland clearances in Scotland                       
Chapter 4    Contemporary accounts and responses                         85
 Reactions of priests and people
 Responses of  the Poor Law Union administration      
 Newspaper accounts
 Political responses
Chapter 5    Causes and consequences                                             108
 The £4 rating clause
 The question of middlemen
 Other possible causes of the evictions
 Fate of the dispossessed
 Social and economic consequences
 Political consequences
  Conclusions                                                                                            125
Notes     and references                                                                              135
Bibliography                                                                                                146
Index                                                                                                          156
Figures      
Location of Kilrush Poor Law Union                                            13
Electoral divisions of Kilrush Poor Law Union, 1839-1849    14
Changes in boundaries of Poor Law Unions, 1850                16
Types of houses during the Famine period                                20
Map of the area showing elevations                                            27
Soil classification map of the area                                               27
Landholdings of the ten largest landowners                             33
Number of ejectment cases at Kilrush Court, 1844-1850       42
Col. Crofton Moore Vandeleur                                                       43
Capt. Arthur Edward Kennedy                                                       45
Grouped frequency distribution of family numbers evicted     50
Pie diagram of sizes of evicted holdings                                    53
Correlation between sizes of holdings and numbers evicted                                                                                               54
Evictions in proportion to population of Electoral Divisions    62
 Boundary changes                                                                         63
 Col. George Wyndham, 1st Baron Leconfield                           69
George Bingham, 3rd Earl of Lucan                                            72
 Eviction scene, Kilrush, July 1888                                             77
Second eviction scene, Kilrush                                                   78
Battering ram at eviction (1), Kilrush                                          79
Battering ram at eviction (2), Kilrush                                          79
Poor Law rates in Kilrush Union, 1842-1852                           112
Illustrations
'The town of Kilrush'                                                                  21
'The ejectment'                                                                           96
'The day after the ejectment'                                                    97
'The village of Tullig'                                                                  99
'The village of Moveen'                                                            100
'Scalpeen'                                                                                  101
'Scalp of Brian Connor, near Kilrush Union house'           102
'Bridget O'Donnel and her children'                                      103
'Judy O'Donnel's habitation under the bridge at Doonbeg'  104
'Scalpeen of Tim Downs at Dunmore'                                      105
Tables
 1.   Changes in area and population of Kilrush PLU,  February. 1850     15
 2.   Population trends in Kilrush PLU, 1831-1846                                       18
 3.   Numbers of families in each class of house in Kilrush Union,        1841                                                                                                                       22
 4.   Language competencies in south-west Clare, 1851                           24
 5.   Literacy levels in Kilrush Poor Law Union, 1841                                 25
 6.   Numbers of persons holding land in Kilrush PLU, 1845                                                                                                                      30
 7.   Owners of over 5,000 acres in Kilrush Union, 1840                            32
 8.   Ejectment cases relating to Clare in each court 1846-1849               37
 9.   Ejectment cases at Kilrush Circuit Court, 1844-1850                          39
10.  Evictions by individual landlords in Kilrush PLU,
       Nov.1847 to June1849                                                                                48
11.  Grouped frequency distribution of families evicted by
       twenty eight named proprietors                                                                49
12-1  Grouped frequency distribution of numbers of evicted
       holdings, by size and named proprietors, Part 1                                   51
12-2  Grouped frequency distribution of  numbers of  evicted
          holdings, by size and named proprietors, Part 2                                 52
13.  Comparison of numbers of evicted holdings with total                       55
14.  Areas of land cleared by specified evictions                                          56
15   Total areas of land cleared by all evictions                                            56
16.  Numbers of people evicted by the top ten evicting landowners                                                                                                         59
17.  Evictions up to June 1850 as a percentage of the populations
of electoral divisions                                                                                          61
18.  Evictions reported by the constabulary in county Clare, 1849-1855    64
19.  Evictions recorded by the constabulary in Kilrush Poor  Law Union, June 1850-December 1852                                                                                         66
20.  Comparison of Famine-time mass evictions with the Vandeleur       evictions of 1888                                                                                                   81
21.  Decline in the numbers of tenements in Kilrush Union, 1846-1850                                                                                                              109
22.  Changes in the numbers of holdings in Kilrush Union, 1847-1853                                                                                                               110
23.  Poor Law rates made in Kilrush Union, 1842-1852                                 113
Other Information:
Kilrush Poor Law union encompassed a large area of the south-west of County Clare in the 19th century. The union achieved national notoriety during the Great Famine in Ireland due to the very high level of poverty, hardship, hunger, destitution, famine-related diseases and deaths among its population. A primary cause of those distressed conditions and of the union's notoriety was the extraordinary level of mass evictions that occurred there during the Famine years. County Clare had the highest level of evictions, relative to its population, of any county in Ireland during the Great Famine and Kilrush Poor Law union had the highest level of mass evictions in Clare.
This book presents, for the first time, a detailed analysis of the context, course, causes and consequences of the mass evictions in Kilrush Poor Law union during the Great Famine. It describes the pre-famine community and land-holding patterns, the onset and progress of the mass evictions. It identifies the main evictors, the numbers evicted and their locations. Context and perspectives are examined by reference to other mass evictions in other places and at other times. Extensive contemporary accounts of the Kilrush clearances are reviewed, including the many iconic images from the pages of the Illustrated London News.
The causes of the mass evictions and the aims and motivations of the evictors are examined and assessed. The historically-contested issue of responsibility for the evictions is addressed. The book concludes by describing the social, economic and political consequences of those traumatic events, including the elimination of a vast number of small land-holdings, the associated permanent disruption of the social structure, the relative insignificance of emigration as a significant relieving factor and the dismal fate of the dispossessed.
Matthew Lynch is a native of Kilmurry Ibrickane, Co. Clare and a graduate of the University of Limerick's MA programme in History and Local Studies. He has published several papers on local history in counties Clare and Tipperary.
He was co-editor of Clare History and Society, a set of interdisciplinary essays on the history of County Clare.
Publisher:
Old Kilfarboy Society, 2013
ISBN:
ISBN 978-0-9556037-1-6 (pbk)