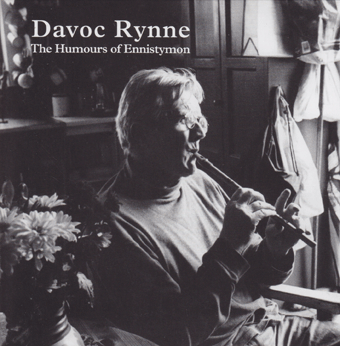 CD039
Davoc Rynne
The Humours of Ennistymon
Price:
€11.60 including postage in Ireland
€13.25 including postage worldwide
Paypal Ireland:
BUY now for delivery in IRELAND
Paypal outside Ireland:
BUY now for delivery WORLDWIDE
Availability:
This item is in stock and is normally dispatched within 24 hours of order.
 NOTE: if you do not wish to use Paypal you may purchase this CD set by sending a EURO cheque to OaC, Spanish Point Rd., Miltown Malbay, Co. Clare, Ireland. Your CD set will be dispatched as soon as the funds have been cleared through our Bank account.
 
List of Tracks:
1. The Piper's Despair 3.14
            Reel, Trish Dillon & Davoc Rynne whistles and the clan backing
2. Down the Broom 1.54
             Reel, Trish & Davoc whistles and the clan backing
3. Lark in the Morning 2.18
            Double Jig, Johnny Hehir, Trish & Davoc and the clan backing
4.Carrigdhoun 2 54       
            Song, Anne Rynne vocal, Luka Bloom guitar
5. Munster Cloak 2.34
             Mazurka, Johnny, Trish & Davoc and the clan backing and humming      
6. Dick Gossip 2. 36
            Reel, Trish & Davoc whistles and some of the clan backing        
7. The Galtee Mountain Boy 4.16
              Song, Christy Moore with clari backing at the end
8. The Humours of Ennistymon /The Battering Ram 3.17
              Double Jigs, Johnny, Trish & Davoc and the clan backing          
9. Aisling Geal / Sunny Banks 2.59
            Slow air / Reel, Davoc solo followed by reel with some of the clan
10. Blackwater Side 2. 26
             Song, Anne vocal, Luka guitar  
11. Fairy Queen /The Derry 2.44
            Hornpipes, Johnny, Trish & Davoc and the clan backing
12. The Chattering Magpie / Flax in Bloom 2:24 
             Reels, Davoc whistle, Conor Byrne- flute arid some clan backing ,
13. The Congress / Killarney Boys of Pleasure 4 00
              Reels, Johnny, Trish & Davoc with clan backing 
14. Murphy's 1.54
                Reel, Johnny, Trish & Davoc     
15. The Road to Abbeyfeale 1.52
                  Waltz, all the clan       
Extract from Sleeve Notes:
Davoc Rynne, The Humours of Ennistymon
It is 1952 I am cycling to my piano music classes with "Madam" Dunne in the townland of Firmount about three miles from the village of Prosperous in County Kildare.  I am a bit fed-up.  I hate boring old music lessons!  And why don't they teach you popular songs like "Davy Crockett King of the Wild Frontiers" instead of these silly weird mini concerto things!  I lasted about five lessons.
The following year, for one year only, I was a boarder pupil in Dominican College Newbridge. There I came under the spell of a "Doctor" J. Cuypers. This well known music teacher had his work cut out with this young reluctant musician. The good Doctor Cuypers did manage eventually to drag me scream­ing along the classical music road. But the year at Newbridge College is up and so is the end of my formal musical career!   Of course I breathed a sigh of relief and went straight to Bill Haley and "Rock around the Clock" and Elvis Presley and "Heartbreak Hotel".
Another decade rolls by and I am up in Dublin selling farm produce when I accidently discover The Fiddlers Club in Church Street. It was a great place for hanging out, with plenty of interesting alternative looking students - more students than fiddlers I might add.  For me at this time, the traditional Irish music that was played there was really only incidental! The gorgeous cool young women straight from the beat generation were my main interest. There was a shilling entrance fee - half the price of a pint of Guinness at the time.  No drinks, alcohol or otherwise, were available.  It was all very basic, like a seldom used town hall. It was in this club I first met Ciaran Bourke and got chatting to him. I found out from him that besides playing the whistle, he was also a builder and a general Jack of all Trades. I told him of a job available in Prosperous doing up an old house.  He hitched down the following week with difficulty. Long beards were discriminated against at the time!   He told me he walked with his back to the traffic, thumbing, but when turning around his potential lift would put the boot down. He eventually arrived with no baggage other than a Clarke's tin whistle.
The interesting thing about this period was Ciaran's amazing ability of bringing the best out in everybody.  He discovered dormant musical talents in people in Prosperous that they hardly knew they had themselves.  Some hadn't played for twenty years and he got them to bring out their rusty instruments and have a go again. We got names of hidden, hardly known traditional musicians in the area. One day the pair of us equipped with this list went off to hunt them down - literally knocking on doors. And when the door opened our introduction was "We heard that there was music and singing in this house". We had a hilarious day drinking tea, swopping yarns and playing music.
After a few weeks Ciaran was gone.  I am not to sure did we finish the job or did we just run out of money!  But on the music front I was hooked.
Sadly Ciaran Bourke passed away on the 10th May 1988.  Only three times I met Ciaran since that time he worked with me in Prosperous.  Once on a fleeting visit to our house in Downings, next at Christy Moore's wedding when we were all too drunk to converse and lastly at Luke Kelly's funeral when we were all too sad to talk.
Now - I could nearly always scratch out a couple of tunes on the whistle, a jig or two or a slow air. I struggled for ages to play a reel at any kind of speed.  One must remember that in the early '60s things were very different.  No way could you get any traditional music books, teachers were unheard of and musical instruments were as scarce as hen's teeth and or wildly expensive. You would really have to go to Dublin to buy a decent whistle. My brother Andrew was and is a fine whistle player and a good singer and back then when he lived in Dublin he played and sang his way through his early medical college years. He was one of the first to get an actual paying gig in the famous O'Donohues pub. He played and sang in the early 1960s in the equally famous "Abbey Tavern" in Howth with many top performers.
Around the mid 1960's a group of us in Prosperous, including my sister Brigid who is a lovely singer and whistle player set up a branch of Comhaltas Ceoltoiri Eireann. Straight away I suggested Pat Dowling's pub for a weekly gathering of
musicians, singers and like minded listeners. And so the Wednesday night sessions in Pat Dowling's public house in Prosperous began.
If I were to start to name all the people - rogues, ruffians and rascals and even some top musicians and now famous household names, which passed through this pub -sure wisha I would be here all day! And I would surely leave someone out.
Pat Dowling was a mighty man and a great lover of Irish Traditional music. He would travel anywhere to hear music and be part of the fun.
When it comes to music, singing, fun and craic from the early 1960's on, of all that arrived at Pat Dowlings in Prosperous, the most prominent families without doubt were the Moore's and the Lunny's from Newbridge. The first time I met Christy was not in Prosperous but in Grehan's pub in Boyle at a small county Fleadh Ceol - I guess around 1965.  I was with the usual Newbridge crowd of bone players, plumbers, whistlers and ragamuffins. This sweaty young fella gets up in the middle of the crowded pub and in a strong voice sings "The Galtee Mountain Boy". Mick Curran had driven us up in his old Bedford van and I could see he was wildly interested - "Who's your man?" I ask excitedly. "Ah sure - he's is one of our own" - says he with great pride.  Christy was working in England at the time - sure wasn't everybody, half of Ireland seemed to be perpetually over there.  I am not too sure what he was doing in London, maybe swinging a shovel or maybe swinging the lead - but he was definitely doing the folk club circuit.
Christy and meself became good buddies. We drank the same kind of porter, chased the same kind of young ones and followed the same kind of music.
It was not long before I spotted his gorgeous sisters.
Now the first time I spotted Anne she was standing in the doorway of their home in Newbridge as I picked up the bould Christy to go rambling and rollicking to god knows where. Anne says the first time she spotted me was in Pat Dowling's when the whole family just wandered in on a winter's night in 1967. Oh yes mother Nancy and all - so behave yourselves boys!  I can still see Anne being encouraged by her mother to sing "Blackwater Side". Nervously she gets up and in a wonderful strong clear voice delivers this old county Cork song of betrayal. She was just eighteen years old, and to be honest, I am now even getting wee warm quivers as I write all this forty six years later!
Within six months Christy marches us up the aisle in the little church in the village of Milltown between Prosperous and Newbridge. Nancy had organised a fleet of helpers in to clear out the junk from the basement at Downings House.  Fuel was gathered for the big open fire, old scrub topped tables were cleared off and laid out with food and drink to feed & water the masses. What can I say! Anybody and everybody were there from local chancers to broken down gentry! Extraordinary people turned up that we had never met before. No invitations were sent out so it was extremely casual.  One of the many highlights of that great night was Liam O'Flynn and Paddy Maloney playing the Uileann Pipes in harmony. That magic night is still talked about.
In less than a decade we had five beautiful bouncing children - Davog, Niall and Donnacha, Aine and Turlough! And that does not include at least three other kids that we fostered. But the music and fun goes on but definitely at a much slower pace.
In 1972 Christy's album Prosperous was made in that old flagged floored basement. Out of this adventure emerged the legendary Planxty.
In 1977, we have our bags packed and various trailer loads of furniture all tied down and the seven of us are away to set up a new home in the west. We sell a small lump of land in county Kildare and buy an old rambling cottage in county Clare - on the edge of the ocean at Spanish Point.
The best county in Ireland for Irish traditional music has to be county Clare. Willie Clancy had passed away only three years before we moved and the Summer School dedicated to him was in its infancy.
Over the next twenty five years I really played very little music as we raised our family and got on with trying to make a living wheeling and dealing in old country furniture.
One notable interruption was flute player, singer and writer Fintan Vallely from County Armagh.  Around the mid '80s he bought a small house about a mile away from where I am now sitting. He dragged some old rusty music out of me and I was the first one, according to Fintan, to coax a song out of him.
Around 2003 Sean Malone in the Markethouse pub in the centre of Miltown Malbay started his Monday night sessions.  Both Sean and his brother Fintan Malone are fine traditional music players. These open sessions were mighty for drawing musicians of all sorts from learners to professionals from far and wide.
Johnny Hehir on harmonica and Trish Dillon on whistle and fiddle were regulars there. These two great mates of mine played a huge part in encouraging me and indeed nursed me back to learning and playing tunes again.  I bought a wee Dictaphone thing and recorded every old tune at every old session. Well all very good, if one has a sharp learning ear but not much use otherwise - the vast majority of trad musicians do not know the names of most of the tunes they play.  If you do not have a name you cannot link the tune with a music score. And I need sheet music or I get very bothered and lost. Johnny is a pure genius with 100's of tunes from waltzes, polkas, reels and jigs and whatever you are hav­ing - played note for note with superb timing and rhythm.  But he only has a handful of names so I nearly have to give up on him.
So what about Trish? Ah now, she is different. I ring her up and inveigle her to call around to Knockliscrane where we live.  She enters weighed down with a bag of whistles and music sheets - she has a flute case under her arm and a fid­dle on her shoulder.  She is still only in her twenties and seems to know every tune known. And the ones she doesn't know she soaks up like a sponge. Trish was taught by the legendary Gus Tierney and has been playing music since she was seven.  Once she played a couple of tunes down the phone for me to record! With a Dictaphone in one hand and a telephone in the other hand - how cool is that!
Last year (2011) I applied to Clare County Council for a busking license to play music at the Cliffs of Moher.  Never for a moment did I think that I'd actually get a license.  But lo and behold - the great day arrives - and official notification comes in the post that my application for a busking license has been approved. A couple of weeks later I head off up to the Cliffs of Moher to play music to the masses. Two or three times a week I am up there, enjoying myself immensely I might add - rocking away with a big loud whistle.
When I first clapped eyes on Barry Moore (aka Luka Bloom) he was twelve years old.  He was way up stairs in a small bedroom in the Moore family home playing his guitar.  I was way too busy courting his older sister to pay much attention to him!
Barry was the first one to suggest to me that I make an album. He has always said that I have an unusual style and a great story to tell. I take me hat off to you Barry - you were The One that sowed the seed!
One day towards the end of last March I am on the phone talking family and stuff to Christy. Out of the blue I say to him "would you play bodhran for me in a studio if I made an album?" He answers without any hesitation "Yes". I am a bit taken aback with the quick answer.  "Can you give me some dates?" says I timidly.  "Sooner or later...?" asks he.  "How about Sunday afternoon 22nd April" says he?  I am flabbergasted.  "How can you come up with a date like that so quickly?" "Well I have a diary in front of me!" says he, as cool as a cucumber.
Next I am on the phone to Quentin Cooper (sound engineer) and the whole deal is set up. Marked up in his diary and all ready to go - Sunday 22nd from 1.am to about 5.pm in the Old Courthouse Studio in Ennistymon.  Got to get Anne on board but she is the easiest - always very willing and always very able. And next I phone up the bouzouki player, broadcaster and all round good guy -the great Eoin O'Neill. I book him for the day ....................................
Other Information:
Recorded at The Courthouse Studio, Ennistymon Co Clare.
Recorded, Mixed and Mastered by Quentin Cooper
Photographs: Leah Wolf, Turlough Rynne and Katie Theasby;
Cover photo: Aine Rynne.
Album Artwork: Turlough Rynne