C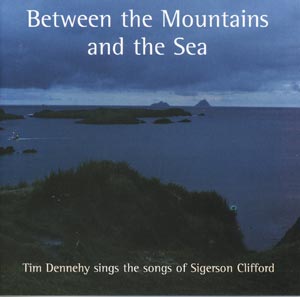 D001D-TD
Tim Dennehy
Between the Mountains and the Sea
 
Price
€19.60 incl postage within Ireland, North and South.
€21.25 incl postage worldwide.
Paypal Ireland:
BUY now for delivery in IRELAND
Paypal outside Ireland:
BUY now for delivery WORLDWIDE
Availability:
This item is in stock and is normally dispatched within 24 hours of order.
 NOTE: if you do not wish to use Paypal you may purchase this CD  by sending a EURO cheque to OaC, Spanish Point Rd., Miltown Malbay, Co. Clare, Ireland. Your CD  will be dispatched as soon as the funds have been cleared through our Bank account.
 
List of Tracks:
1. The Kerry Christmas Carol 3.40
2. The Boys of Barr na Sráide 4.14
3. Lenihan's Big Bazaar 4.40
4. The Ballad of the Tinker's Son 7.25
5. The Old School — song and poem 3.39
6. The Ballad of Johnny Golden 4.13
7. The Boy Remembers his Father 4.10
8. The Races 4.08
9. The Ballad of the Tinker's Daughter 9.46
10. Between the Mountain and the Sea 5.13
11. M J MacManus — poem 1.00
12. I am Kerry — poem 3.07
 
Extract from Sleeve Notes:
About Tim Dennehy
FROM INCHICORE TO KELLS
Having been raised in South Kerry, 'The Boys of Barr na Sraide', was our anthem at any gathering. Its author, Sigerson Clifford, was, to me at least, a mysterious figure of whom I knew very little.
My first, teaching post was at the Oblate Father's National School in Inchicore in 1973 and there I encountered Sigerson's friend Tim Dwane an intelligent, gentle soul who met the author on a regular basis and who taught me much about the writer and the man. Then I discovered, 'The Ballad of the Tinker's Daughter', in a sixth class English reader and, having put a melody to it, I had great pleasure in singing it for the first time at the Góilin Singers Club in Dublin. It was also broadcast by Harry Bradshaw on the radio programme, 'The Long Note', and Sigerson wrote of his delight on hearing it.
Since then his presence has gently shadowed my live performances and my recorded output- each album has featured at least one Sigerson song. 'Between the Mountains and the Sea', has been an ongoing project for about twenty years and has brought me into contact with his family, friends and his many admirers.
Shortly after Sigerson's death the
Ballinskelligs author Tim O'Shea wrote: "For Eddie Clifford there was another special world ,bout which he would be forever singing- a place of bird song and yellow furze and quiet water at the silent mill; a world populated with characters quaint and droll who told set yarns in finely honed style. Steinbeck's Monterey was no more colourfully peopled, It was a private world that hinged on the Rocky Road, the Fair Field, the Old Road and Barr na Sraide but it would be presumptuous to plot its limits. It is enough to say that no one could have been more in thrall to happy memories of his native place than Eddie Clifford".
I hope that this place of sweet bird song and yellow furze will live and breathe through this album. I offer it now as a gift of thanks to the poet himself in the hope that it may be a small inspiration to those who might wish to recite his poems and sing his songs. And let us leave the final words to Sigerson himself —words written as a foreword to Dan O'Neill's 'Cahersiveen Memories: In every corner of the earth there are Cahersiveen men keeping the flag flying. May this little book find its way into their hands so that in the world beyond Canburren Bog they'll not forget the Old Town under Beenatee Mountain and the beautiful people who were in it long ago".
Tim Dennehy, County Clare, 2003
 
Other Information:
Format: Single Cd with Booklet.
Lable: Sceilig Records SRCD004Mountains & SEA